Mrs. King's Toolbox Series
...Simply Better Books!
*Stories that Empower You with Powerful Skills for a Better Life*
Fun Books for Kids! Great Tips for Parents & Educators!
Everybody Wins!

I want to teach everyone simple, powerful skills that I regularly share with students and adults. We deserve to be happy and create better lives. Mrs. King's Toolbox Series can help you, or a child you love, do just that.
These tools may seem simple, but they literally change the chemicals in your brain and cause you to "Power-Up"!
Each book teaches a skill through a story. The next part of the book focuses more on that tool and how to reinforce it on a regular basis.
Although the characters in the first book deal with a child experiencing stress about starting school, "Powering-Up" can be used in any situation that causes emotional or physical discomfort for children AND adults.
I Don't Want to Go to Kindergarten...I'll Miss You Toooo Much includes follow-up activities in the book, access to an online instructional video, and free activity page downloads for future use.
The best connections are unplugged. Put a book in your hands and share it with someone special. ~ Maureen King - Author & School Counselor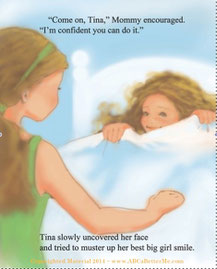 Used in PreK - 8th grade, this book addresses social emotional learning (SEL) necessary for ALL of life's challenges. The setting involves fear of temporarily leaving a parent to go to school, but the tool is for all ages.
Tina doesn't want to go to kindergarten because she will miss Mommy too much. Bobby offers to teach her a  super power that will help her feel happy and strong.

Teach your child this skill to develop emotional intelligence (EQ, EI).
What are people saying?
"From the adorably illustrated cover to the Activity Page at the end, this most needed book is a must for children and parents alike."
~ Karol Miller: Librarian